Scale Client Projects with Sonrai
Scale client projects by enabling reproducibility, total track and trace auditing, interactive reports and global collaboration to accelerate development timelines.

Eliminate costly errors
Our state-of-the-art platform de-risks Clinical Research Organisations (CROs) by reducing trial complexity, costly errors, streamlining your workflows, automating time-consuming processes, and improving collaboration across pre/clinical operations, data management and reporting.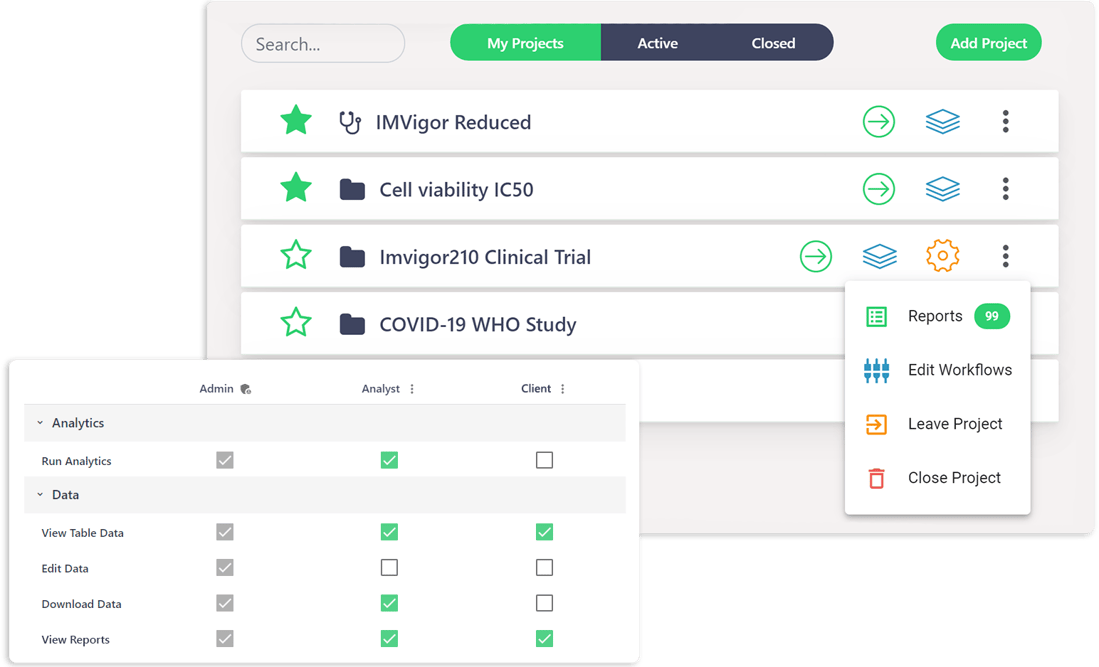 Manage all your projects, sponsors, and data.
Easily set up secure private reports or projects for each client, with absolute control over what users can see or do.
Conveniently store your data in the Cloud, with intuitive role-based-access-controls and permissions.





Collaborate with automated project management tools, reports, and two-way communication channels.





Share data analysis reports with your teams and sponsors, save reproducible outputs and pipelines to repeat experiments reliably or to present findings.
Multi-Omic Data Integration
Unlock new research opportunities and reduce time spent on data input, analysis, and presentation by integrating multi-omic data in minutes. Free up vital resources to expand client projects and grow faster.
Code-Free AI & ML Data Analytics
Democratize data across your entire organisation through a secure central platform that enables everyone to utilise AI/ML, analytics and insights. No-code, no hassle.
Interactive Reports & Client Portal
Generate new hypotheses, discover biomarkers in clinical and pre-clinical data sets and discover new drug candidates. Easily reproduce and share your findings with clients.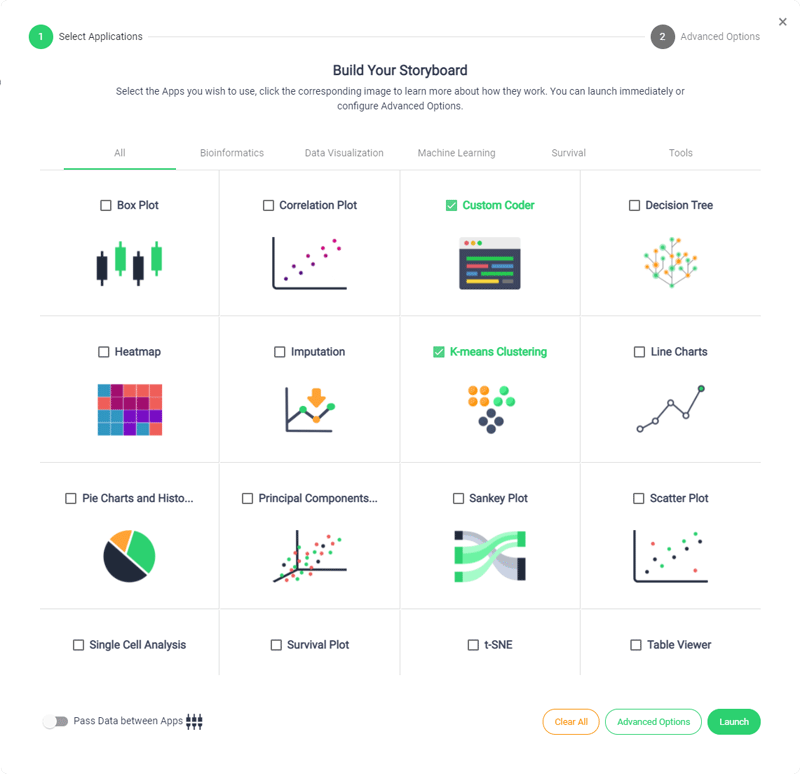 Sonrai accelerates your development timelines to drastically reduce trial lifecycle times, streamline processes and give your CRO the competitive edge.
Sonrai enables real-time digital access to information at any stage of development to minimize risk, improve collaboration and trial efficiency.
Sonrai lessens the impact of high CRO turnover by enabling the most basic user to take advantage of data science tools within a no-code environment.
We can integrate with all your favourite tools to ensure enhanced interoperability throughout your workflows. We work with you to fit the system around your needs.
Our data-sharing platform enables transparency into development plans allowing for earlier Sponsor engagement in the lifecycle. It provides an environment in which early detection problem solving is encouraged.
Sonrai is the solution to the reproducibility crisis. With Sonrai you can easily create data pipelines that ensure consistency, efficiency and reproducibility to eradicate errors and drive reproducible discoveries.
Research projects can stagnate for months, sometimes even years, because of a lack of expert bioinformaticians. We lower the barrier to entry for complex bioinformatics analysis to eliminate this issue for CROs.
Automated auditing - total track and trace. CROs can be confident in the quality and completeness of their clinical data. Follows ALCOA+ framework, all data is Attributable, Legible, Contemporaneous, Original and Accurate.
Get Maximum Value From Your Data
CROs rely on Sonrai for data aggregation and artificial intelligence solutions that lead to better decision-making, eliminate delays, and significantly shrink research time, reducing drug development costs and timelines for your sponsor.
We leverage Artificial Intelligence and Machine Learning Data Interactions that can uncover what would not have been possible before.
AI For Everyone
Simple to complex AI and machine learning tools enabling the most basic user to take advantage of data science tools within a no-code environment.
Advanced AI & ML
Gain insights, look for signals in your data or markers with therapeutic potential. Discover outliers that would not have been possible with the naked eye.
Deep Learning
Our proprietary tools and algorithms are used with the NHS, Roche and QUB Precision Medicine Centre to deploy innovative cancer imaging solutions.
Leverage AI for Competitive Advantage
Sonrai Analytics helps your organisation stand out from the competition
Scale Faster

Automate Tasks

Collaborate Everywhere
Cut the time spent on data input, integration, analysis, and presentation in half. Redirect time to increase client leading to overall growth
Many CROs have limited staff working under tight timelines. To scale, they must reduce the time spent on client projects while delivering on quality. We provide security for CROs to scale their operations and improve quality simultaneously. This translates to an increase in the number of projects they can manage and ultimately increase revenue.
Sonrai automates your laborious processes like manual data entry, manual validation, cleaning, or calculations.
CROs tend to have limited staff working under tight timelines. Like any sector, they need to automate processes, or they will fail to scale and fail to deliver a quality service. Sonrai Analytics takes CRO data types, instils order to disparate data sets collected over many projects and integrates it to mine for new insights - all within minutes. The platform automates your laborious processes like manual data entry, manual validation, cleaning or calculations, and generating interactive reports and analytics.
Demonstrate insights to customers with interactive reports and real-time analytics - Web, Tablet or Mobile
CROs are increasingly required to provide access to real-time data and analytics. Sponsors expect to see evidence of transparent and traceable processes and access tools and services that empower them to dig deeper into their data faster than ever before. Sonrai Analytics provides CROs with a fit-for-purpose Data Portal and Trusted Research Environment. Sonrai helps CROs work in close collaboration with their clients, providing intelligent solutions to their analytical needs, establishing and transferring methods quickly, and ensuring that information transfer is efficient, secure, and confidential.
PROTECT YOUR DATA AND YOUR CUSTOMERS
Protect Your Company Against Nightmare Scenarios
Sonrai protects your organization against the pitfalls that CROs can fall into like data quality, errors and repeat work. Our approach increases the clarity of your value to your sponsors.
Sonrai facilitates the ability to detect issues proactively,including inclusion/exclusion criteria violations, protocol violations, and other compliance or performance red flags, will help keep your trials on track.
A major delay could result in the sponsor missing out on being the first to bring a product to market - and damage a CRO's reputation.
What our clients say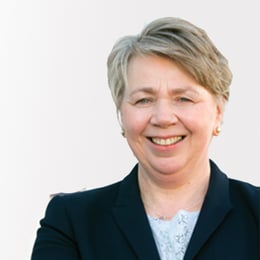 "We have paid for many services in 7 years of business but we have rarely had the investment in time that the team at Sonrai have shown."
Catherine Maguire

Axis Bio Director
LEARN MORE
GUIDE
How to go above and beyond to stand out from competitors and reduce customer churn.
LEARN MORE
The Next Steps
Get Started with Sonrai Analytics
We Learn About You
We listen to your challenges and objectives.
We Give You Answers
Our expert team is ready to help you with any questions you have.
A Safe Space to Play
We give your team time with the platform to ensure it's right for you.
Which types of data can Sonrai Analytics integrate?
Sonrai is data agnostic and provides support for the analysis of preclinical, single-cell, bulk RNA-seq transcriptomics, genomic and proteomic data types. For proprietary file formats, we engineer custom solutions.
Does your platform integrate with existing tools, equipment or data lakes?
The Sonrai platform has been designed from the ground up to work with and connect to your favourite tools, lab equipment and other information management systems. We customize every platform to suit the individual needs of our customers and can provide hands-on support in helping to migrate or work with your existing data or software.
How easy is it to get started?
We can get your platform live in a matter of hours, and provide hands-on training & user onboarding support to ensure your users feel confident in how to make the system fit your needs. We also work with you to help with any data challenges or needs and we will actively guide you on the best processes and tools within the platform to get the most from your data.

The system also has built-in tutorials, video guides, and support documentation.
Do I need to be a Bioinformatician to use the platform?
No. We developed the platform so that anyone in your organization can benefit from the insights derived from your data. We provide code-free tools and user-friendly interfaces that greatly simplify normally difficult or laborious processes. We do this so that users of all skill levels can access, process or share findings. From Bioinformaticians and Data Scientists to Project Managers, Business Executives, or Sales People on the road - everyone can use Sonrai.
How Secure is my data?
Your data will reside in a secure Private Cloud, n a top-tier Amazon Web Server (AWS) ISO27001 Data Center - the world's leading Cloud Provider.
Customers can choose a location of their choice (e.g. London, Dublin, Boston, Frankfurt, Paris...) for their server and Sonrai will configure it to meet your needs. It will be your server, with your data, and your users. Sonrai has zero ownership or access to your data upon platform installation.
Sonrai also provides continuous monitoring & security operations to protect your data as part of the package.
How much will it cost?
Sonrai provides a range of plans to suit organizations of all sizes and budgets, and our account managers and data science teams can help recommend solutions that fit your particular needs.
There is a flexible monthly subscription model which not only offers unlimited data storage, projects, and analytics access but also entitles you to continuous updates and enhancements with all the new features and upgrades that are routinely delivered by the product team.
Can I change my plan later?
Yes. Sonrai offers flexible solutions that can also scale with your company or respond to your needs and targets (such as having upcoming development or clinical trial cycles, or downtime between major sponsor work).